Solid Spring Bull Sale result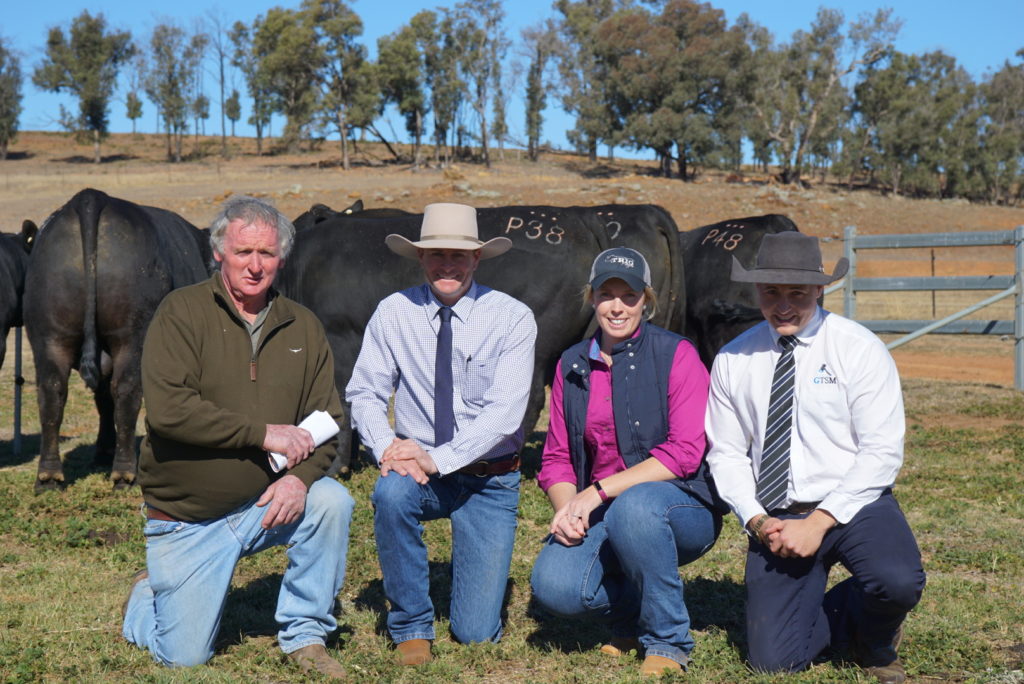 As published by Outback Press
Strong local support led to Trio Angus posting a sale average of $5422 & a 92% clearance at their recent bull sale held at Cassilis.
Trio Angus co-principle, Matt Cherry, said the support from repeat buyers was very strong, with 80% of the bulls going to existing, local clients in the Cassilis, Coolah, Merriwa & Mudgee areas. "They've been getting excellent results with their Trio genetics, and it was great to have them back looking for more".
Sons of Ascot Lion Heart were highly sought after on the day with buyers chasing the combination of growth & carcase weight they offered. Lion Heart was purchased in partnership with Ben Nevis Angus for a record price of $70,000. This year was the largest draft of his sons to be offered at Trio Angus.
The top priced bull was Lot 3. Trio Lion Heart P2, who was purchased for $9,000 by Lyall & Sally Woods from Hargraves. The Woods family has been using Trio Angus bulls with great success for the last seven years.
Two other Lion Heart sons were purchased by the prominent Victorian stud, Banquet Angus. Both bulls will go on to pursue stud duties for the Branson family.
New buyer, Temerity, Coolah, also secured two excellent Lion Heart sons to average $7750.
The top priced yearling bull, Lot 27. Trio Mount P65, was purchased by PiperCo, Cassilis. This was the first son of Texas Mount K2 to be offered & he will make a strong addition to their commercial herd.
Lorimer Partnership, Cassilis, secured a strong line up of three bulls on the day.
Although sale prices were back on recent years, co-principle Shelley Piper said 'it was great to see people seizing the opportunity to upgrade their bulls & buy top genetics at very affordable prices'.
Many comments were made on sale day that the performance & quality of the Trio Angus bulls was in line with other leading Angus studs in the industry. The excellent temperament of the bulls was also recognised, "We pride ourselves on the docility of our herd, temperament is a highly heritable trait that is both convenient & profitable" said Matt Cherry.
Buyers also valued the free delivery service that Trio Angus offers, along with the option to delay the delivery of their bulls until October.
The sale was conducted by stud stock specialists, Glasser Total Sales Management.
Co-principles, Matt & Shelley were very pleased with the sale result. 'Although times are challenging, it was great to see people still investing in leading genetics & thinking about the future of their breeding herd' the couple said.
Related posts