Donated heifer makes $6000 in Flood Relief Charity Auction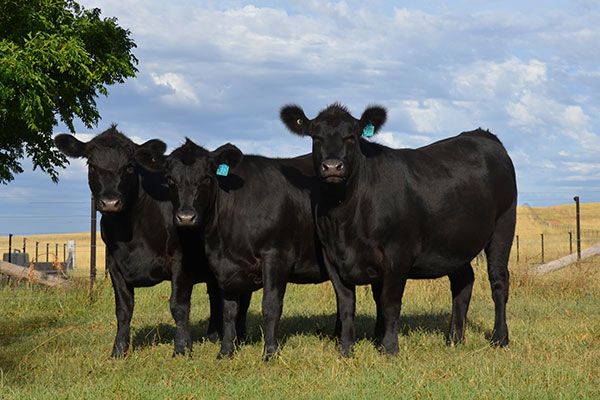 Article written by Teresa Hogan
Trio Angus generously donated a stud heifer to the recent AuctionPlus North Queensland Flood Relief Charity Auction. The winning bid of $6000 will see the new owner, Geoffrey Porges from J&G Pastoral Co, Orange hand pick their new heifer from an impressive line up of Trio's future breeders.   
The winning bid has been offered a rare opportunity to select a heifer from 40 of the stud's top 2018 Spring born heifers, sired by record breaking bulls including the $70,000 Ascot Lion Heart, $85,000 Millah Murrah Loch Up & the $50,000 Millah Murrah Maestro.
Last month, farmers in Northern Queensland received over 1000mm of rain in just over 7 days. It is estimated that half a million head of cattle perished. After years of drought, there was no preparing for this natural disaster and many farmers were left helpless as the rains far exceeded weather forecasts. 
The AuctionPlus North Queensland Flood Relief Charity Auction commenced on the 25th of February. Over 100 items were donated ranging from livestock and semen packages, holidays, household items and sporting memorabilia. Throughout the week livestock sellers also had the option to donate a portion of their sale earnings to the cause. In total the online auction has grossed $93,000, all of which will be donated to BlazeAid to help those flood affected farmers who need it most.  
Trio Angus, Cassilis know first hand the effects that a natural disaster can have on a farming business and the relief that comes from a helping hand. In February of 2017, the Sir Ivan Fire tore through the area destroying 55,000ha of bush and farm land. Trio Angus was not spared as the fire chose its path through the region. In the days and months after the fire, help was never far away. Much of this assistance was from BlazeAid & their volunteers, who put up endless kilometres of new fencing in the district. 
"BlazeAid played a key role in helping our community get back on its feet after the fire, we have no doubt they will be a great help to those in Queensland affected by the floods too" Shelley Piper, co-principle Trio Angus.
"Given 100% of the funds raised in the charity auction were going to BlazeAid, we thought it would be the perfect opportunity to give something back & help our fellow farmers", said Matt Cherry, stud co-principle. "We have some really special genetics in our young heifers & we thought it would be an appealing auction item for other Angus breeders".
'Congratulations and thank you to all the bidders who put their hand up to help our fellow farmers in the North. We look forward to helping Geoffrey choose the right heifer to boost his breeding program.'
Related posts